Outpatient is the main port of entry for patients and medical departments, hospital Mansoura University.
The Mansoura University hospitals to provide medical services to patients including, for example:
Diagnostic tests (such as echocardiography, drawing brain, muscles draw, Aiko, diagnostic binoculars .... etc).
Minor surgical procedures, such as some of the clinics (open abscess, purity, remove the acacia, binoculars sex, etc ...).
Various medical tests:
Albatolga clinical (such as the functions of the liver, and kidney functions, hormones ....).
Makrubioljia medical and immunity (Vidal, Brucella, Romatad .......). .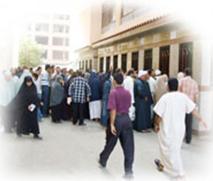 Outpatient activities:
Extraction of medical reports and reports of treatment at the expense of the state.
Exchange treatment for patients attending outpatient clinics.
Exchange therapy for patients who are treated at public expense.
A variety of analyzes.
To play an active role in the teaching of the Faculty of Medicine where Yuj 10 strips for teaching clinics.
Ending all therapeutic procedures for patients who are treated at public expense (reports, a tripartite committee, exchange treatment ... etc).
highlights:
The rest work for patients attending clinics nine about 300 patients and fitted with seats and lighting and ventilation necessary to improve Almrdh service.
Connect computers and clinics linked to the computer department for the registration of patients attending.
Interior sections linking clinics at the hospital as well as the management of the hospital through the hospital intranet network.
Restoration of the nose, ear and throat clinics, as well as nuclear medicine and oncology clinic.
An amendment to the list of treatment at the expense of the state to make it easier on patients.
Air Jordan 4 IV Retro 30TH