Brief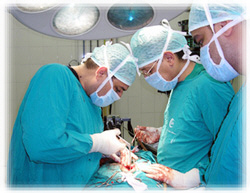 The Council of Mansoura University's decision to establish the Department of Neurosurgery at 02/22/2004 based on the Ministerial Decree No. 127 dated 08/02/2004 and was previously unknown, a unit of General Surgery for the service population of East Delta, where the start of work in the history of the unit eleventh / 1991 was the special section operating room equipment, then became an independent department with the beginning of 2004 with the new expansion of the department and get a room to the other operations and established for the first time PhD in Neurosurgery, Faculty of Medicine Mansoura in 2005 thanks to the great efforts made by the department head Prof. Dr. / Abdul Wahab Mahmoud Ibrahim, who is considered Sa love thanks to the advancement of the department and put it on the local and global level is required in addition to its contribution to the creation of a new generation of members of the faculty is able to achieve Altdrash and scientific goals with international standards.
The objective of the establishment of the section:
Medical provide a service with international standards for patients with advanced brain and nerve surgery.
Provide a service and preventive and diagnostic and therapeutic for diseases and nervous system injuries.
Reception and treatment of cases of accidents urgent and emergency emergency hospital.
Macs do research for diseases of the nervous system leading to the submission of the best ways to pharmacological and surgical treatment for patients.
Carry out teaching students pre-graduation and post-graduate students to graduate students and surgeons brain and nerves on the high degree of excellence serving their community.
Medical Services (diagnostic and therapeutic):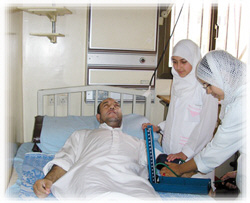 Providing protective service system diseases sticks and hit him.

Diagnosis and treatment and follow-up cases of head injuries and spinal peripheral nerves and emergency hospital.

Diagnosis and treatment of tumors of the nervous system.

Diagnosis and treatment of spinal tumors and spinal cord.

Diagnosis and treatment of circulatory system diseases and own brain arteries and nervous system.

Diagnosis and treatment of congenital defects of the nervous system.

The treatment of ascites palsy.

Diagnosis and treatment of slipped disc.

Dealing with the backbone of cases that need surgery to install paragraphs.



adidas