Brief
Unit was established fertility care Mansoura University Council resolution No. 574 issued on 07.09.1981 and began working out since that date.

He founded the Unity Mr. D / Ezzeddine Osman.

Mr. Li D / Magdy Abdel Azim Hassanein - Allah have mercy on him Unity Management since its inception until 1991 and Prof. Dr. / Mohamed Shafie since 1992 to 07/31/2005 .walostaz Dr. / Yousef Abu al-Khair of 1/8/2005.
The main objectives of the unit: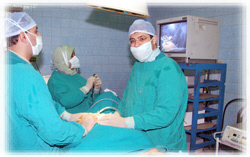 1. assist the university in carrying out its mission in the field of education, training and dissemination of information for different categories in the field of fertility care and includes:

Family planning and contraception.

Cases with special care using modern methods and ultrasound devices-risk pregnancy.

Diagnosis and treatment of infertility cases.

The preparation of studies and research in the field of fertility.

2. provision of services to the local environment of the community in the aforesaid areas of the university contribution in solving the problems of Egyptian society.

3. Unity contribute to the training of a generation of newborn doctors graduation for the deployment of these services throughout the Republic.

4. closer ties between the university and local bodies and associations and international in the field.

5. Implementation of all the projects entrusted to it in the area of ​​competence of either the university or other universities documented cultural links between universities.

Advantages and benefits offered by the unit:
And the introduction of modern contraception and safe service to the clients within the national program after a careful study of loneliness and minutes.
Providing cadres of doctors or nurses, social workers and trainees are well trained to advise and help women to choose contraception.
Training gynecologists and obstetrics from the university and from the Ministry of Health on the agenda of family planning and the diagnosis and treatment of infertility.
Provide comfort and improve services constantly hesitant on the unit.
The provision of services fit the clients symbolic wages of low-income.
Research and national projects that serve the community and the environment within the scope of fertility care.
The existence of modern devices do not exist in other centers can be utilized such as bone densitometry device.
Equipment and material resources:
Lectures equipped with audio and visual hall.

2 room for individual counseling and screening for patients infertility and provide contraceptives such as the IUD and capsules and injection contraception.

Room equipped with ultrasonic waves through the abdomen and vagina.

Room for the work of artificial insemination of the husband.

Kolboscob device for early detection of cancer.

Room equipped with measuring the bone density of the women.

Two rooms for the establishment of patients and chamber of sober (10 beds).

Taqiam room equipped with modern sterilization.

Large operations room with 2 belly telescope and binoculars and camera and Rahmy Monitor and anesthesia device and the number of operations Table 2.

Assistant fertilization and ICSI lab.

Activities and achievements of the unit fertility care.


New Balance Running Shoes