Brief
Since the beginning of work Section University Hospital was established in the mid-sixties and became a section includes many of the central laboratories of all hospitals and medical centers at the university.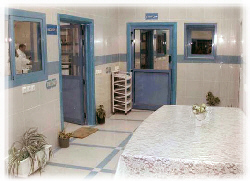 Section activities:
Preparation distinct human cadres.
The department all laboratory diagnostic tests for patients.
Participation in the activities of several distinct areas of a private community service and the environment, for example:
Participation in medical convoys and medical survey of centers and villages of the province.
Participation in research services
Units and specialties section: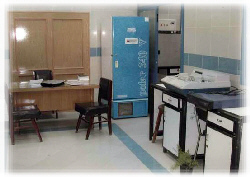 Industry blood diseases: The unit diagnosis of anemia job Blood Photo disease, and examination of bone marrow and appoint iron and ferritin in blood and bone marrow and conducting electrophoresis tests for hemoglobin, as well as the diagnosis of cancer of the blood tests Alcetokemiaiah and Alstiaulogih and immunology and also laboratory tests for the diagnosis of entertainment diseases such appoint clotting and functions of platelet factors.

Blood Bank and blood transfusion services: the unit in addition to appoint M B blood donors and modern electronic means, testing and examination of blood donors agree.

Specialty clinical chemistry: the unit to conduct laboratory tests for diseases of the liver, kidney and endocrine disorders and signs of angina pectoris and enzymes and analyzes of patients sugar and hardening of the arteries and early diagnosis for cancer patients.

Specialty clinical microbiology: The unit diagnosis of microbial diseases and infections university hospitals and serological tests in the areas of rheumatic diseases, infectious diseases and diagnosis of viral diseases.

Industry Clinical Immunology: The unit diagnosis in the field of immune diseases such as immune deficiency diseases and allergies and semantics tumors and immunological tests for the transfer of the members and the cultivation of bone marrow tissue compatibility..
Nike News