Brief
Unit was established fertility care Mansoura University Council resolution No. 574 issued on 07.09.1981 and began working out since that date.
He founded the Unity Mr. D / Ezzeddine Osman.
Mr. Li D / Magdy Abdel Azim Hassanein - Allah have mercy on him Unity Management since its inception until 1991 and Prof. Dr. / Mohamed Shafie since 1992 to 07/31/2005 .walostaz Dr. / Yousef Abu al-Khair of 1/8/2005.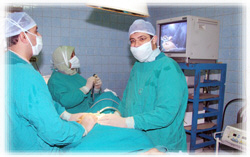 The main objectives of the unit:
1. assist the university in carrying out its mission in the field of education, training and dissemination of information for different categories in the field of fertility care and includes:
Family planning and contraception.
Cases with special care using modern methods and ultrasound devices-risk pregnancy.
Diagnosis and treatment of infertility cases.
The preparation of studies and research in the field of fertility.
2. provision of services to the local environment of the community in the aforesaid areas of the university contribution in solving the problems of Egyptian society.
3. Unity contribute to the training of a generation of newborn doctors graduation for the deployment of these services throughout the Republic.
4. closer ties between the university and local bodies and associations and international in the field.
5. Implementation of all the projects entrusted to it in the area of ​​competence of either the university or other universities documented cultural links between universities.
Nike Air Max